Team USA Coaches, Captains Revealed
The IQA is proud to present the Team USA coaches and captains.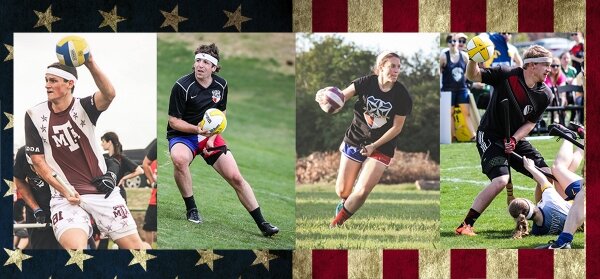 You met the roster, now get to know the individuals who will be leading Team USA on and off the pitch.
COACHES
Mitch Cavender: It seems Mitch Cavender came out of the womb wearing a coaching visor. Not only has he had experience outside of quidditch—he coaches high school football and is a team manager at the collegiate level—but he has also spent time as an IQA non-playing coach. The University of Southern California and the World Cup VI runner-up University of California Los Angeles have both benefitted from the dedication Cavender puts into his role: he scouts opponents' game videos, prepares strategies and structures practices to bring out the best in his team. This same sort of dedication came into play when selecting Team USA, and his knowledge of each of the 21 players' specific skill sets not only provides him with tools he needs to form a game plan but makes him the perfect coach for the team.
Sarah Holub: Sarah Holub cries during the national anthem, creates award-winning chants and is pretty good at quidditch—she has a World Cup Championship and a gold medal to prove it. Holub's time as a University of Texas and Team USA player, as well as being a current member of Lone Star Quidditch Club, has given her a variety of experience and expertise with the sport that will be invaluable to Team USA. This will not be Holub's first rodeo with coaching; she is a high school volleyball and softball coach. Her quidditch know-how, coaching prowess and love of America makes her an excellent choice to help guide Team USA to victory.
CAPTAINS
Kody Marshall: Kody Marshall has been the poster boy of quidditch since he entered the sport. You can find him in news articles, interviews, bus advertisements, his own and even the IQA Rulebook. But he is not just a pretty face. His skills on the pitch are undeniable, his leadership is unquestionable and his passion is unmatched. A World Champion and a scholar, he will lead by both voice and action, as he is able to easily navigate both the media and the pitch. It is no wonder that he was selected to co-captain Team USA.
Drew Wasikowski: Having been the captain of perennial powerhouse Texas A&M University for the past three seasons, Wasikowski's captainship should come as no surprise. He is a proven leader who knows how to bring the best out of his teammates, and he prides himself on sportsmanship, positivity and class both on and off the pitch. Over the course of his storied four-and-a-half-year career, the man affectionately known as "Drewski" has earned the unadulterated respect and admiration of players and fans nationwide, making him an ideal choice to serve as the face of US Quidditch at the Global Games. He's even an Eagle Scout to boot.