Fantasy Draft Diary: Snow Cup
IQA Southwest Correspondent Beto Natera decided to trade the warm sunshine of Texas for the frigid temps of Utah this winter as a GM for Snow Cup. Here is his draft diary.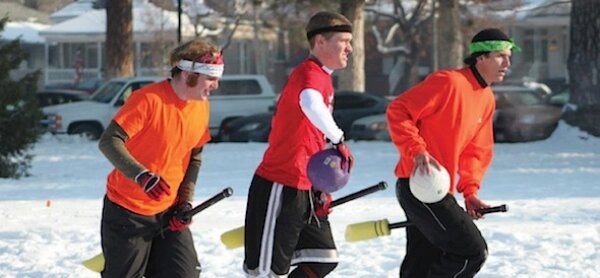 With the holiday season upon us, the American quidditch season has reached a lull. As the hands of many players trade in quaffles for keyboards, the general community has begun its annual tradition of overanalyzing the previous semester's happenings. Saving us from the maddening inter-regional banter is the fourth annual Snow Cup in Riverton, Utah hosted by the Utah Crimson Fliers Quidditch Team on Jan. 3. A fantasy tournament like no other, Snow Cup has lived up to its name in the past, littering Facebook with images of quidkids frolicking in the snow. However, with the addition of numerous out-of-region stars, this year's winter fantasy tournament has taken a slightly more serious tone.
A showcase event for players to carve out a national reputation, Tournament Director Sequoia Thomas and her team of organizers are preparing for over 150 players from around the country to descend upon Utah. Like the alcohol of an open bar at an AA meeting, spots for this event were in short supply. Ten hours after opening registration, the original 120 player slots vanished. Responding to the massive response, organizers raised the player limit to its current number and held the much-anticipated draft on Dec. 1. With 10 captains selecting their 15-player teams via a snake-style draft, the player pool was anxious to find out who their teammates would be for the first tournament of the New Year. I was fortunate enough to be one of those captains. Like my fellow general managers, I was faced with the daunting task of pouring over the extensive player list in order to familiarize myself with the available participants. What ensued on that early December night was a hectic, loud and mildly hilarious 14-round draft. The draft order went like this:
1: Chris Lock of the Santa Barbara Blacktips  (Purple Team)
2: Sarah Kneiling of Louisiana State University (Green Team)
3: Doug Whiston of the University of Kansas (White Team)
4: Anthony Hawkins of the Long Beach Funky Quaffles (Grey Team)
5: Vanessa Goh of the Lost Boys (Black Team)
6: Dakota Briggs of the Utah Crimson Fliers (Orange Team)
7: Colby Soden of the University of Kansas (Red Team)
8: Beto Natera of Lone Star Quidditch Club (Brown Team)
9: Santiago Gonzalez of The Lost Boys (Pink Team)
10: Daniel DePaula of Louisiana State University (Blue Team) 
Here are a few picks that caught my eye in the early goings of the draft.
Rounds 1-2
Technical difficulties and an IQA staff meeting shielded me from the shock of Lost Boys seeker Steve DiCarlo's selection as the number one overall pick ahead of Lost Boys teammate and keeper Tony Rodriguez and Texas A&M star chaser Drew Wasikowski. While DiCarlo offers both elite chasing and seeking, Wasikowski and Rodriguez have been tearing up the competition in their respective regions. With Chris Lock's first pick, I threw my mock draft board out the window and ventured into the unknown. With Wasikowski and Rodriguez taken off the board in that order by Sarah Kneiling's Green Team and Doug Whiston's White Team, respectively, Kansas star Keir Rudolph went to the Grey Team, followed by keeper Craig Garrison of the University of Texas at San Antonio (UTSA) being taken by Vanessa Goh's Black Team. Garrison, an emerging star with UTSA, is a player to watch in this tournament. Unseen by many outside of the Southwest, Garrison is an excellent facilitator and hoop defender who possesses one of the better long shots in the game. His pairing with Goh, the former UCLA and current Lost Boys standout chaser, is a match made in quidditch heaven. Expect to see these two connect on numerous passes for easy scores against undisciplined defenses.
The draft took a strange turn as Santiago Gonzalez used the nine and 12 picks to select UOttawa beater Clare Hutchinson and NAU Narwhal beater April Gonzales. Both are strong players in their own right and were some of the best female participants. However, with the Thundercats' star keeper Nebraska Huggins still on the board, I could not believe my luck and used about one second of the one minute allotted for selections. Goh's Black Team addressed the beater position early with the excellent addition of Thundercats' beater Logan Trudell with the 16th pick in the draft. A former collegiate water polo player, Trudell is reputed to have amazing arm strength and accuracy. With the 17th pick in the draft, Doug Whiston displayed his knowledge of the Midwest with the sly addition of Ball State University chaser Devon McCoy to the White Team roster. Not as well-known nationally as other players, McCoy is one of the better athletes you will see in our sport. I had the displeasure of playing against him in the opening round of bracket play at this past World Cup. The numerous bruises he left me ensured that he would be on my radar for this draft. Sadly, he did not last long before he was off the board.
Rounds 3-8
With pick 21, Lock's Purple Team added the hunk of muscle mass that is Arkansas' Vincent Barrios. This selection answered many of the questions surrounding Lock's first draft choice. With DiCarlo already in tow, the Purple Team could count on arguably the best seeker attending and the frightening physicality of Barrios as well as the considerable impact DiCarlo brings to the chasing game. Surprising to many was the player selected after Barrios: Facebook troublemaker and Loyola University New Orleans beater Tad Walters. While not one of the most physically gifted beaters available, Walters has steadily improved in his tenure at Loyola. He will hope to prove that his playing skills can match his outsized Internet personality. I for one think he is a sneaky pick by Kneiling. There is a certain level of familiarity between the two beaters due to the close proximity between their collegiate teams, LSU and Loyola. I expect these two will have immediate on-field chemistry and make for a top five beating duo at the tournament.
Goh, making me feel silly for listing University of Northern Colorado chaser De'Vaughn Gamlin as a potential mid to late round steal, continued the Black Team's trend of nabbing strong players that do not necessarily come from powerhouse programs by selecting Gamlin with the 25th pick. The addition of Oklahoma Baptist University (OBU) beater Chandler Smith with the Black Team's 4th round pick adds depth and intelligence to their beating corps. While yet to break out at the regional level with his OBU team, Smith should provide an interesting option for a two-male beater set while remaining one of the better second-string beaters. Soden's selection with the 27th pick, keeper Kelby Brooks of the University of Houston, should add a lot of enthusiasm to Soden's Red Team. Undersized for the keeper position, Brooks is a solid athlete who I have seen at numerous Southwest tournaments and at a recent Snitch Academy. He has impressed me with his speed and unexpected physicality from a player his size. If he can add a bit of muscle mass to his somewhat slender frame, he should live up to the early draft pick invested in him.
Dakota Brigg's Orange Team's selection of University of Southern California (USC) beater Julia Thomas with its fifth round pick was surprising to say the least. While a shortage of standout female beaters was most likely a factor in this selection, Thomas has been less than impressive on the occasions I have seen her play. In her previous World Cup outings, as well as her participation in Southwest fantasy tournaments, I saw a player with experience and strong instincts but a lack of endurance exposed against speedier opponents. With many Western beaters mimicking the aggressive Lost Boys beating style, I believe Thomas will struggle against the fast-paced beating I expect to see at Snow Cup. Gonzalez's Pink Team, seeking to shore up its chasing corps, selected Lost Boys' chaser/beater Mitch Cavender with its round three pick and Arizona State University (ASU) chaser Sean Pretti with its round four pick. Playing with Cavender on my Southwest fantasy team this past summer, I came away with the impression that he is one of the more intelligent players in the game today. His understanding for strategy is exceptional and he should lend an added level of cohesiveness to his team. Pretti, a standout for ASU at the West Regional Championship, should add physicality and chaser savvy to Gonzalez's Pink Team. Daniel DePaula's addition of beater Brian Vampola of the Santa Barbara Blacktips and former University of Southern Mississippi seeker Brendon Frisella adds seeker and beater depth to his Blue Team. However, with first round pick and former Kansas chaser Hai Nguyen not having played regularly in months, DePaula should have considered shoring up his chaser line with any of the strong chasing options available at the time. While the Blue Team will have some of the strongest beating in my opinion (the power duo of DePaula and Lost Boys beater Amanda Nagy is kind of scary), much will rest on the shoulders of the former Kansas standout.   
I'm pretty sure the Black Team stole my notes or something. Goh's addition of UOttowa Maple Rush chaser Brian Wong, arguably the fastest player attending the draft, should prove to be one of the biggest steals of the day if his ball skills are on par with his speed. A former British Colombia high school province champion in both cross-country and track and field, Wong has the athletic pedigree to play with the best. The Blue Team's addition of my Lone Star Quidditch Club teammate, Paxton Casey, will add physicality and a sorely needed big body to help the Blue Team slow down some of the bigger keepers at the tournament. I was also surprised to see Kansas beater Samy Mousa last this far into the draft. A solid beater with a strong grasp of strategy, I expected Mousa to go somewhere in rounds four or five. Selected by the Pink Team in round six, Mousa should provide an excellent beating partner for either NAU beater April Gonzales or Mitch Cavender in the event Gonzalez wants to go with a two-male beater set.
As of right now, I would have to say that the favorites to win this tournament are the Black and Green Teams. The pairing of Wasikowski and QC Boston: the Massacre chaser Zach D'Amico should provide for some exciting offensive fireworks for the Green Team. The Black Team, well-balanced in both the quaffle and bludger games, is likely to use any of its strong athletes in the seeking game. However, as we saw at the Southwest fantasy tournament with the champion Red Team, strong seeker play paired with solid defense can win games. If Chris Lock's group can keep games close enough to give DiCarlo a shot at the snitch, they could sneak their way to the final. If the Blue Team can get an MVP-level performance out of Hai Nguyen, its lesser-known chasers will be able to shine through Nguyen's elite passing ability. Pair this with its strong beating and the Blue Team will offer fierce competition for the entire field.  
You can find a complete breakdown of teams by clicking .