Mid-Atlantic Regional Championship: Day One Recap
Day one of the Mid-Atlantic Regional Championship saw teams struggle through the wind and the cold to come out on top in pool play.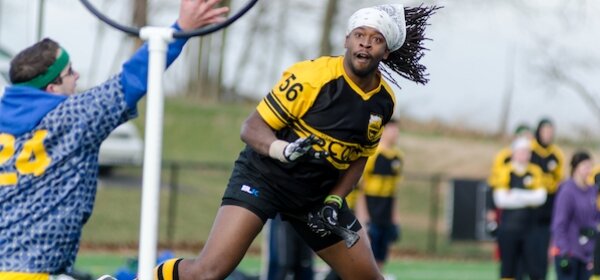 Pool A
This pool was headlined by what was expected to be the most exciting game of pool play, a rivalry matchup between Villanova University and. Penn State University (PSU) that lived up to expectations. Villanova pulled ahead before Penn State rallied behind Robert Hedges to claw back into snitch range. Ultimately, it was PSU's beater play led by Scott Axel that proved decisive in the 150*-120 Penn State victory. Appalachian Quidditch and the Philadelphia Honey Badgers will face off later in pool play with third place likely to be on the line. Appalachian Quidditch displayed promise in its games today. Appalachian surprised its opponents with physical chaser and beater play, but its youth proved to be its downfall in a pair of losses to more experienced squads. The Honey Badgers, while having a year's experience under their belt, struggled mightily against PSU and Villanova, being outscored a combined 350-20 in the two matches. The Honey Badgers' defense was slow to react, and they hardly had bludger control. Carnegie Mellon and UNC-Greensboro (UNCG) are both going to end up in the bottom of this pool, with UNCG likely finishing last, having lost already to Carnegie Mellon and facing a tough matchup against Penn State tomorrow. Both teams are relatively young, and while showing a few bright spots need continued talent development.
Current Standings:
PSU 4-0
Villanova 3-1
Appalachian 2-2
Philadelphia Honey Badgers 2-2
Carnegie Mellon 1-3
UNC-Greensboro 0-4
Predicted Finish after Day 2 Pool Play:
PSU 5-0
Villanova 4-1
Appalachian 3-2
Honey Badgers 2-3
Carnegie Mellon 1-4
UNC- Greensboro 0-5
 Pool B
The NYDC Capitalists entered this pool as heavy favorites and did nothing to dispel that notion. NYDC made a statement from the outset, defeating rivals Virginia Commonwealth University 170*-0. After a five-hour break NYDC had yet another rivalry renewed as captains Michael Parada and Amanda Dallas were given the opportunity to settle a score with Johns Hopkins University (JHU). JHU came out strong, matching NYDC's physicality and forcing its beaters into mistakes. NYDC, though picked up its level of play right when the snitch returned, taking back the lead with their chasers and outplaying JHU's beaters in defending the snitch, en route to a 130*-70 victory. JHU looks to be the next best team in this pool, narrowly defeating a tough University of North Carolina-Chapel Hill (UNC) squad, 100*-90. Q.C. Carolinas (QCC) and VCU looked very sloppy throughout the day with VCU's only victory coming over QCC 130*-80. QCC lacked consistent physicality from its chasers and consequently relied heavily on its beaters to make stops. Meanwhile, VCU made some bad passes, and its beaters got occupied in beater wars often, leaving its chasers to try and make stops on their own. NYDC is still the favorite and looks to be like the team that will emerge from group play with one of the top seeds going into bracket play.
Current Standings:
NYDC 3-0
JHU 2-1
UNC 2-1
VCU 1-2
QCC 0-4
Predicted Finish After Day 2 Pool Play:
NYDC 4-0
JHU 3-1
UNC 2-2
VCU 1-3
QCC 0-4
Pool C
After a very tiny hiccup in its first game, the University of Maryland (UMD) has progressed relatively unchallenged through this pool. Maryland came out slow and looked nervous against Lock Haven University. Maryland's veterans took charge though as Erin Mallory and Ricky Nelson led UMD over Lock Haven 170*-20. UMD looks to be the tournament favorite right now, though it's hard to be certain given their schedule thus far. Their biggest test of pool play will be is yet to come, as they still will face an undefeated University of Virginia (UVA) team. While UVA's chasers have displayed excellent passing skills, it will need to step up its seeking game to have a true shot at defeating UMD. In one of the more exciting games of the day, Lock Haven knocked off Virginia Tech in overtime. Tech was able to force overtime with a snitch grab, but Lock Haven's superior beaters proved too much in the extra time. Virginia Tech's passing game has struggled thus far, forcing it to rely heavily on single-player drives for points. Duke University has thus far been the surprise of this pool. While still making the mistakes that most young teams make, Duke has the talent to possibly qualify for World Cup VII. Duke's chasing and beating game is raw, but displays a lot of potential for the future. The Red Cedar River Monsters are thus far winless, but have so far managed to keep two of their four losses within snitch range, falling to Lock Haven 70*-50 and Duke 120*-60.
Current Standings:
UMD 4-0
UVA 4-0
Duke 2-2
Lock Haven 2-2
Virginia Tech 0-4
Red Cedar 0-4
Predicted Finish After Day 2 Pool Play:
UMD 5-0
UVA 4-1
Duke 3-2
Lockhaven 2-3
VT 1-4
Red Cedar 0-5
Pool D
The University of Richmond, after playing some tough games against Rutgers University and QC Pittsburgh , has secured the top spot in this pool. Richmond's beating and chasing has been clicking, and they look to be a force to be reckoned with in bracket play. QC Pitt has had a disappointing day with a pair of losses to Richmond and Steel City Quidditch Club (SCQC) on snitch catches. Pitt has been forced to rely heavily on its beaters to stop larger players, which proved its undoing in a 190*-130 loss to SCQC. Against Richmond, it was Pitt's seeking that couldn't get the job done in a 70*-50 loss. SCQC, although losing to Richmond 280-140*, has put up some impressive performances. After beating Pitt, good beating and clutch seeking led SCQC over Rutgers 80*-70. For Rutgers, seeking has once again proved to be its undoing. Rutgers is still a young team, and has already progressed a lot in the nascent season; their losses Saturday are due more to inexperience than a lack of skill. Rutgers has the potential to upset Pitt tomorrow in pool play, and even qualify for World Cup if they can make the appropriate adjustments in their seeking game. The Horn Tailed Horcruxes have struggled thus far going 0-3 with just 50 points on the day; they will benefit from continued experience.
Current Standings:
Richmond 4-0
SCQC 2-1
Rutgers 1-2
Pitt 1-2
Horn Tailed Horcruxes 0-3
Predicted Finishes After Day 2 Pool Play:
Richmond 4-0
SCQC 3-1
Rutgers 2-2
Pitt 1-3
Horn Tailed 0-4